Gaspari Nutrition GlycoFuse 3.7lbs (60 servings)
|
$54.99
Rapid Performance Recovery Supercarb. Just the facts. 25G Pure Highly Branched Cyclic Dextrin Per Serving. Accelerates Performance And Glycogen Loading. Rapid Gastric Clearance Using Osm Technology. Loaded With Electrolytes. Sugar And Gluten Free. Performance endurance requires fuel, Carbs = fuel! Carbohydrates fuel the body's glycolytic and anaerobic ATP-PC energy systems for true athletic power performance. However, not all carbohydrates are created equal. For optimal performance there must be a balance between how much you take in and how fast it leaves your stomach (gastric clearance rate) to avoid potential cramping. Gaspari researchers utilize proprietary Osm Technology to finely tune Glycofuse in solution to ensure a low osmolality to achieve this balance which means a faster gastric clearance! We have chosen to deliver only pure HIGHLY BRANCHED CYCLIC DEXTRIN to athletes looking for a clinically studied carbohydrate for their high performance power, glycogen loading, and endurance needs with a proven track record. Do you want fuel for your workouts and rapid replenishment for the next training session? Do you want sustained energy and balanced glucose levels which won't inhibit fat burning? If you want all that, then you want Glycofuse. Gaspari Nutrition is ever evolving and if you've been a fan of my products over the years you can attest to this. If you are new to the Gaspari Nutrition family you'll soon learn that is my mission to not only create the absolute best research driven products, but to also help you get into the best shape of your life. You aren't an average person or just another face in the crowd. You expect more from yourself and it's my lifelong mission to provide you the tools to see your dreams in competition, on the field, in the gym, or on the stage become reality.Gaspari Nutrition is 100% committed to PEOPLE, PRODUCTS and RESULTS. Yours in sport,— Richard S. Gaspari.
---
---
Customers Who Bought This Item Also Bought
Customers Who Viewed This Item Also Viewed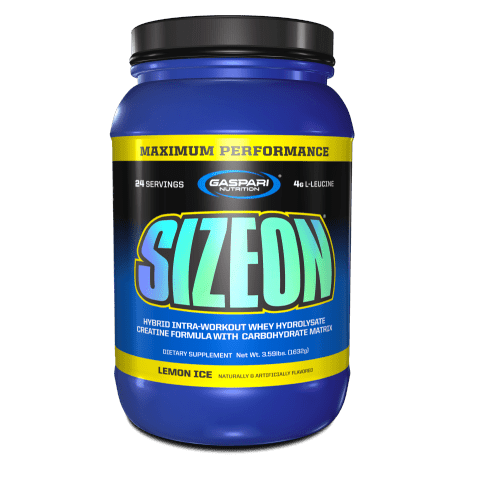 Gaspari Nutrition Maximum Performance SizeOn 3.49lbs
---
New, Amino Acid Powerhouse. SizeOn Maximum Performance. The Ultimate Mass Monster. Hybrid Intra-Workout Whey Hydrolysate...
Your Recently Viewed Items